A customer loyalty platform can be a huge boon to any business in the FMCG sector. What are the biggest advantages it can offer? Should you invest in a custom solution, or will an off-the-shelf product be a better option? Let's break it all down and find answers to these questions.
The business landscape of the FMCG (fast-moving consumer goods) industry is so competitive nowadays that you simply have to use every advantage you can to stay ahead of your rivals. That means you have to keep moving and inventing, creating new brands, offering new products, services and experiences, and improving the ones you have. The key thing here is, of course, attracting new clients, but it's also important to keep those that already use your products. Specialized solution – such as a customer loyalty program software – can make all of this substantially easier. 
What are customer loyalty platforms?
Customer loyalty platforms are solutions designed to incentivize people to start using your products and to offer existing clients additional benefits – going beyond the product itself – with the aim of building a continuous, long-term relationship with them. In other words, the main goal is to strengthen brand loyalty.
The exact way this is done depends on the particular case, but in general, you reward customers who register on the platform (or use some sort of existing ID) with various discounts, enhanced or special services (such as free shipping, better customer service, etc.) and/or bonus prizes (often they are earned by gathering points awarded for consecutive purchases, for example). Sometimes early access to a sale, or a new product, is also an additional boon for the platform's users. 
Biggest advantages of customer loyalty programs
There are several important things that an investment in a customer loyalty platform can bring your business. 
1. Clients
A loyalty platform is an essential tool you can use to build relationships with and engage existing customers – research conducted by MITSloan Management Review shows that customers who participate in well-designed loyalty programs are 80% more likely to choose the brand over competition, and twice as likely to recommend it to their friends. Obviously, this can help your business become more stable and predicatble in terms of income.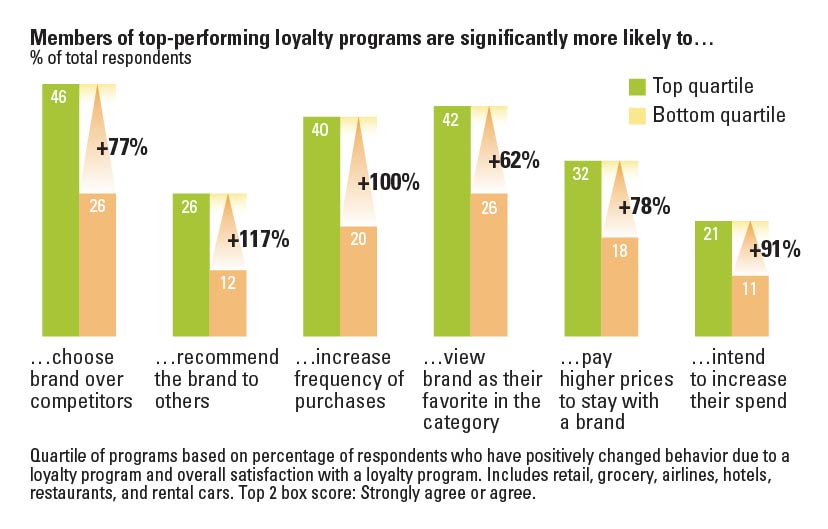 However, it's worth pointing out, that depending on various parameters of the platform itself, and the company's strategy, a loyalty system can also be used to attract new customers.
2. Money
One of the main advantages of customer loyalty solutions is – not surprisingly – boosting profits. Attractive rewards and exclusive deals incentivize customers to continue doing business with your company. Even when you offer discounts on your products, the number of sales will go up, which'll help generate more profits in the long run. Studies conducted by Bain & Company and Earl Sasser from the Harvard Business School show that increasing customer retention by just 5% can boost profits by as much as 25-95%.
Customer loyalty software can also help you reduce operating costs to a degree – for example, you can reduce advertisement costs (TV, social media, magazines etc.). Also, when building a sales team for a new market, you'll probably need to hire less people, since the platform will naturally attract new clients by itself. Additionally, better brand recognition should allow your staff to generate leads with less effort. 
Want to develop a custom loyalty platform?
3. Information
It's one of the less obvious benefits of a customer loyalty platform, but it can nonetheless be quite important. When you have a system like that in place, you have a deep insight into customer data – such as demographics and buying habits. Building metrics can allow you to find new ways to reach customers, or come up with ideas for new products that'll fill a niche that you've noticed. You can also gather valuable customer feedback and contact information.
4. Brand reputation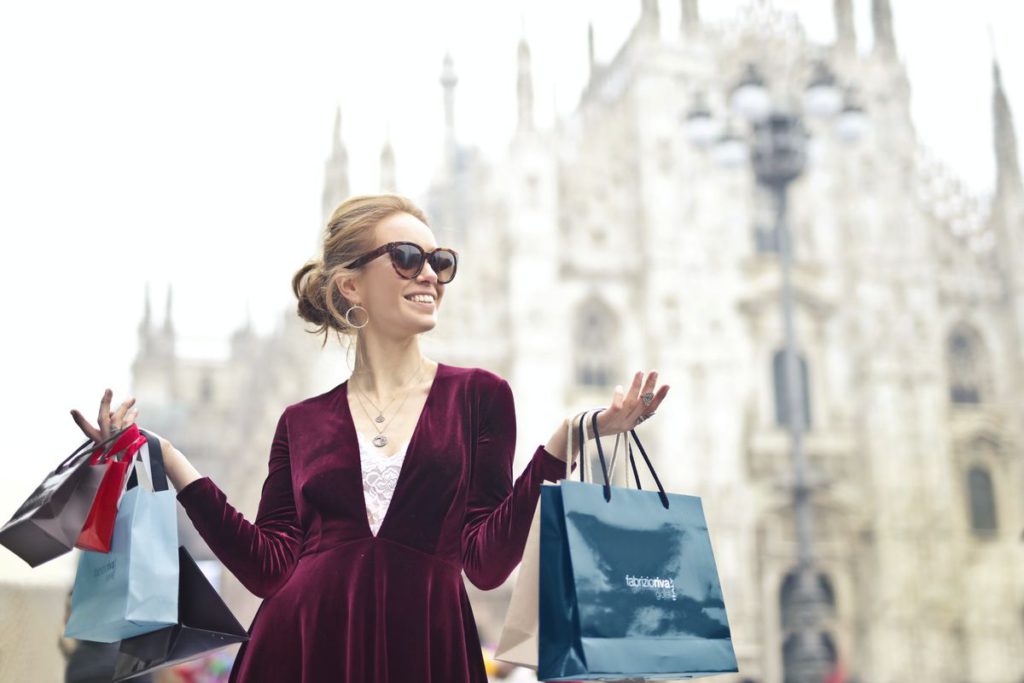 This is a no-brainer. In fact, most of the advantages of a customer loyalty platform come, to some degree, from the much improved brand recognition it offers. You can also use this system to communicate some of your marketing content to improve your company's image and reputation even further.
5. Control
A fully customized loyalty program can also provide you with a way to control your business to a greater extent. For example, by offering attractive benefits you can persuade clients to buy products during a time that would normally be a slower period for your company. This can be a huge boon in some industries – especially those that are really vulnerable to the effects of seasonality.
Want to test a new range of products in real-life circumstances, create brand awareness in a market of your choice, and successfully drive sales? A loyalty platform is the way to do all that and more. 🔥 If you want one, message us at hello@pretius.com – we'll see what we can do to help.
Custom-made or off-the-shelf?
When you decide to invest in a customer loyalty platform, the next question you'll have to answer is this: do you want an off-the-shelf product, or will a custom-made solution be a better option? Ready-made software can be a solid enough option in some circumstances, especially when your company isn't too big (yet), and its business needs aren't too complex. Realistically, however, at some point in time, you'll most likely want to have a solution tailored to your specific requirements – it'll be more costly and time-consuming to deploy, but it'll simply allow you to achieve more. A system like that will also offer better scalability and security, and it'll be easier to maintain and improve.
If you want to invest in an off-the-shelf solution, be sure to do extensive research. Here's a couple of propositions to consider (but it isn't, by any means, a complete list):
Open Loyalty

– a web-based solution that's one of the best-known options on the market. It offers good flexibility

Social Spiral

– easy to use software that works in the cloud, and also has native clients for iOS and Android

Preferred Patron

– an off-the-shelf solution for companies of all sizes, once again based on an app for Android and iOS systems
Tailor-made loyalty platform created by Pretius
When it comes to the benefits of bespoke loyalty software, I actually know the subject very well. My company, Pretius, was tasked with creating a custom loyalty platform for a very big, international player in the FMCG sector. The company was getting ready to introduce a new product on the Polish market – a smoke-free alternative to cigarettes. The main goal of the system was to build brand awerness and pave the way for a successful launch. There was an additonal challenge, however – the software had to be made fast.
We've created a powerfull, scalable loyalty platform based on several well-known techonologies, such as AWS (Amazon Web Services), Kafka, Oracle software, and the Kubernetes microservice architecture. Thanks to these battle-tested solutions, we were able to have best of both worlds, i.e., create a truly bespoke system but, at the same time, do it fast – in around 9 months.
The client also wanted the system to be customizable in real time. This required a CMS system, and we've decided to use the well-known WordPress technology. Our solution is able to adapt to different segments of users – it works a little bit differently depending on who accesses it.
The system consists of two main modules. The back-office part is used by over 2000 of the company's Polish employees and integrated with other systems – for example Salesforce, EmailLabs, Redlink – which was a very important requirement.
The other part of the system is used by the customers. It includes all the important functions and options you'd expect of the software of this kind – there are user profiles, point-based rewards, a referral program, and a product knowledge base. We've also implemented quizes, polls, and much more – to build an even stronger relationship with the customers. 
The platform was integrated with over a dozen of different systems – both internal and external. It's currently used by over a million of people. It's worth mentioning that our collaboration with the company continues – we're developing a new version of the system, designed in accordance with the Mobile First philosophy.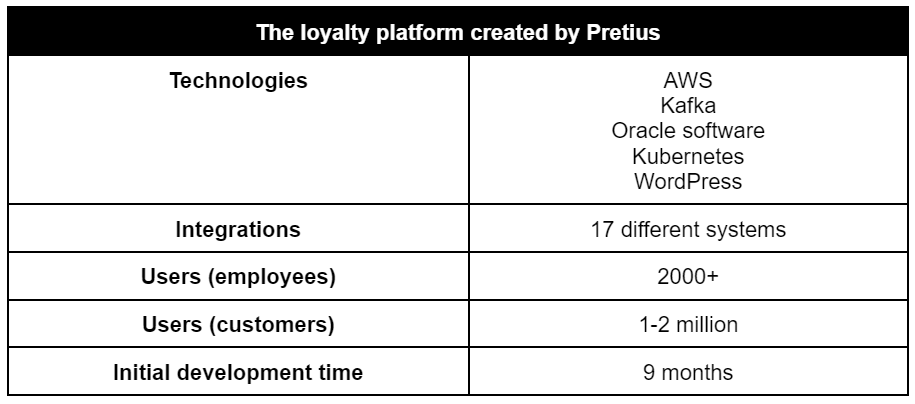 Brand loyalty is key for business – build it
A customer loyalty platform offers clear advantages for most companies in the FMCG sector. It may not be a mandatory choice, but it can boost your business in several important areas. It's a good way to keep in touch with your customers and nudge them towards spending more on your products and services. It also allows you to build brand recognition, attract new customers, and offers you greater control over the "when" and "how" people spend their money, which can help overcome seasonal challenges. Last but not least, it's also a nice source of valuable information that can help shape your strategy for the future. 
For more information about various Pretius projects check out some of my other articles:
Want to invest in a customer loyalty platform tailored to your company's needs? Write us at hello@pretius.com (or use the form below) and tell us your needs – we'll get back to you in 48 hours.