Knowledge sharing among employees is one of the most important aspects that may contribute to the success of the company. Nowadays it seems really necessary either in a small company or a large corporation.
The concept of knowledge sharing brings a lot of benefits to organizations, from learning something new to increasing social interaction in the workplace. Additionally, active participation in knowledge sharing sessions encourages employees to get some great practice in public speaking, which may be helpful e.g. during international conferences, in which Pretius employees also take part.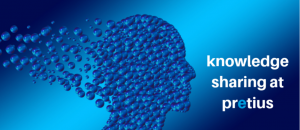 Below there are four examples of how knowledge sharing process looks at Pretius.
Internal Presentations
Internal presentations have a long tradition at Pretius. We organized presentations in our previous headquarters. Almost all company, at that time about 50 employees, got together and listened to a presentation of one of us. The meetings usually took place once a month after work. The topics of those presentations were diverse but usually connected with IT (DB version control, Jenkins, Microservices in Kubernetes, etc). After the presentation there was time for questions and integration.
But Pretius kept developing – right now we can boast almost 100 employees – and thus we had to change our headquarters. A new office means new rules. Right now it is rather hard to organize a presentation for all the employees in one of our conference rooms or a chill room. We tried to set up a presentation in our open space after work, but it was not comfortable for everybody. We sometimes hire a space outside our office (as we did for a presentation about our HR Bot), but it causes a logistic problem and extra costs.
Lunch & Learn
Lunch & Learn sessions are an alternative way of knowledge sharing. The main difference between a L&L session and an internal presentation is a limited number of attendees because of the size of a conference room. Some of L&L attract great interest, like Spock framework or APEX (Oracle Application Express), so we organized a few editions. These sessions are held during a lunch break, so after the presentation all participants can help themselves to a piece of pizza.
Quick Talks
This is a teaser about something new or interesting for our employees.
What is important, the preparation for Quick Talks is not as time-consuming as other kinds of knowledge sharing – one of us simply  prepares a few slides to start a discussion of a given topic.
There were a lot of interesting topics at Pretius portfolio of Quick Talk, like: Power BI, Event Storming, Story Mapping, IntelliJ Tips & Trips, Google Smart Home. For QT we usually gather in a chill room in our office, so even during a coffee break we can stop, listen to something interesting and integrate with one other.
Workshops
Pretius Team is diverse: there are both senior and junior developers. Our senior developers try to share their experience and technical knowledge during workshops. After each edition we ask the participants about the agenda of a workshop and try to improve the next one taking into account their recommendations. The workshop about JAVA (Training With Good Coding Practices for Junior Java Developers) became so popular that we organized 2 editions.
We have been recording our presentations for some time as we hope they will be very useful for future Pretius' employees. This is also a great opportunity to see how we and the technology keeps changing.
We kindly encourage you to get familiar with knowledge sharing at Pretius and bring the concept  into play in your organization.
Happy Knowledge Sharing!