While people generally know what IT analysts do, the role is sometimes considered unnecessary – some people think a good software developer is enough, which isn't quite true. Do you, as an IT director, really know the IT analyst job description? Are you aware of how they can help your projects and company? Or maybe you're someone who's thinking about taking this career path yourself, and you'd like to know what skills and competencies are necessary? Here are some answers to these questions from the perspective of experienced analysts from Pretius.
IT analyst job description – what do they do?
Good IT analysts are the unsung heroes for both the software companies they work at and for the clients, they collaborate with. While they may not write a single line of code, their input (often in the early stages of a project, but that's not always the case, especially in more Agile-oriented undertakings) can be invaluable when it comes to making a piece of software as good, and efficient as possible.
What's the IT analyst job description? Their main role is to help determine the basic requirements, functionalities, features, and scope of a given project. They do this by going through mountains of documents, conducting interviews with the members of the client's team and stakeholders (or sending them questionnaires, if there are too many people to talk to), and then analyzing all the data to find the right direction for the project. The analysts can also help build prototypes and take part in the testing process – all in the name of saving time and money, as well as delivering the product that fits the client's needs perfectly.
It's a hard, but rewarding and very important job that only recently started to receive the recognition and respect it deserves. In truth, that's precisely why we thought writing an article like this one – addressed to both potential clients and prospecting analysts – was a good idea. We started by conducting a poll among Pretius's analysts since we've got a pretty big and experienced team. We wanted to see what skills our employees considered to be the most important for the IT analyst job, and what they'd like to get better at.
IT analyst job description – most important skills and competencies
What makes a good analyst? One very important thing is a specific mindset and the ability to think logically and reason. There's no going around that – you can pretty much consider that an entry-level trait everyone in our field needs to have. This simple truth is reflected in our query.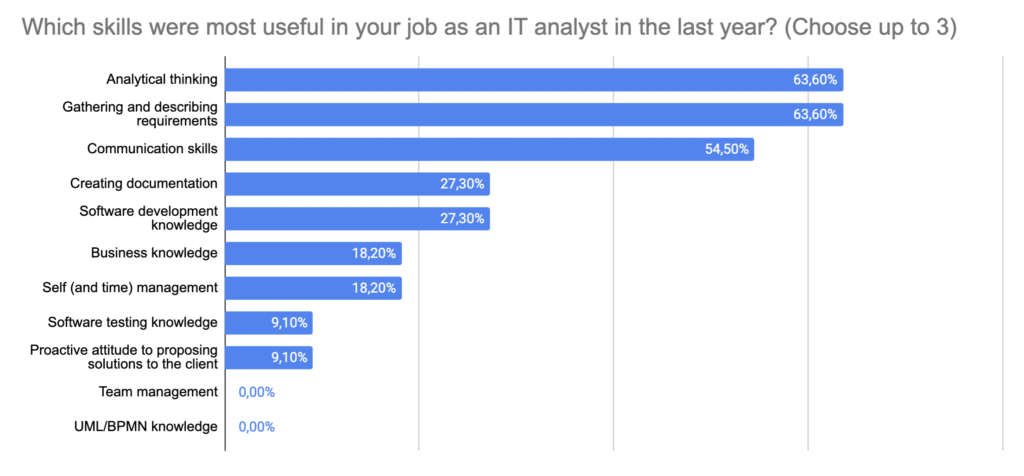 Being able to analyze the data isn't everything, however. A good IT analyst also needs to be able to use that information to good effect, which is why the ability to gather and describe software requirements also was considered very important by our employees (it got the same number of votes as analytical thinking – 63,6%). This competency is particularly vital in IT sector jobs, where translating data insights into effective software solutions is paramount for success.
Communication is also paramount
Our analysts consider communication skills – both inside the team and outside of it, with the client – their third most important competence. Over half of respondents (54,5%) mentioned it and it's worth noting that there's a pretty huge gap between third and fourth place on the list. It's not surprising, honestly – you need to be able to talk to people if you aim to understand their needs and expectations.
However, for the analyst the job doesn't end at brief, superficial communication – it's not just about conducting interviews, but also about building relationships, both with your own team (you need to be able to understand their work and communicate their capabilities well) and with the client and his people. Being proactive when it comes to proposing solutions to the client might also be a boon but isn't crucial (9,1% in our poll) as other members of the development team can take care of that (or there's simply no need for that at all).
Knowledge, attention to detail, and good self-organization
An analyst should also have a broad knowledge of many different things, with an emphasis on software development (things like reading code, understanding architecture – in our questionnaire the answer was chosen by 27,3% of respondents), business (both in general and in relation to the client's industry – 18,2% of our analysts have selected that option), and testing (to be able to support testers, 9,1% of responses).
Also, juggling all of the responsibilities and competencies mentioned above pretty much means, that to fulfill the role of an IT analyst, you have to be very meticulous (especially when it comes to creating documentation – 27,3% of our analysts think it's an important characteristic to have), and have to be able to organize your own work and calendar well enough (18,2% in our questionnaire).
IT analyst job description – possible avenues for promotion and advancement
Skills to develop or improve
There are many skills IT analysts can develop to improve their work capabilities. Some of them are directly related to the competencies mentioned above. For example, 36,4% of our analysts want to improve their ability to gather and describe requirements, 18,2% want to get even better at organizing their work and communicating, one person (9,1%) wants to be more meticulous, and one mentioned getting better at creating documentation.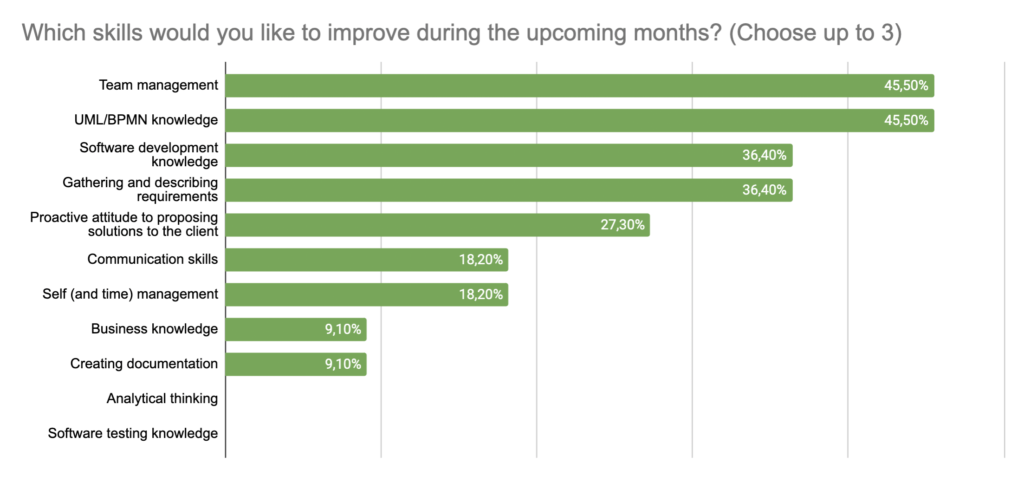 However, there are also some very specific skills that Pretius's IT analysts are interested in, and those are the things that garnered the most attention in our questionnaire. We're talking about two specific responses: knowledge about UML/BPMN notations and the ability to manage a development team – both were selected by 45,5% of our analysts and both are quite interesting in their own right. Broadly speaking, one has to do with enhancing the ability to do analysis, while the other makes the analyst a better team leader. These responses highlight two areas of improvement that are directly connected to different paths of career advancement. Let's look at these in more detail now.
Possible career paths
In general, speaking from our experience and looking at our questionnaire, in Pretius we can specify several main career paths an IT analyst can take down the line.
The first one is centered around analysis itself – the end goal is becoming a Senior IT Analyst, and ideally something of a "guru" of our field. It requires enhancing the understanding of both software development (you don't necessarily need a degree in computer science, skills you can acquire yourself should be enough) and business, as well as learning new tools of the trade – like the aforementioned UML/BPMN notations (selected by 45,5% of respondents) and even specific programming languages (selected by as much as 36,4% of our people). It's a great option for those who grew to love IT analysis and can't imagine themselves in any different role.
The second possibility is migrating towards a more managerial position. For example, you can run a team of analysts as a Team Leader or even go for a Project Manager role. Sure, it's work of a somewhat different kind, but you can be sure the competencies acquired as an IT analyst – e.g., communication skills, analytical thinking, and experience in gathering software requirements – will help you immensely. All you need to do is sharpen two other competencies: the aforementioned team management skills (selected by 45,5% of our analysts) and being more proactive when it comes to finding new solutions for your client's problems (chosen by 27,3% of our people).
And finally, the third option is becoming a Product Owner in projects managed in Agile methodologies (like SCRUM) who creates a product backlog. This is often an interesting choice for Senior IT Analysts, further down the line of career advancement. It should be noted that it's a job with a high level of responsibility (more of an Entrepreneur than the Scribe, if you're familiar with the Product Owner Maturity Levels, as described on Scrum.org). If you want to follow this path, you should enhance your skills when it comes to business knowledge, gathering and describing requirements, and communication.
Of course, these are just the most notable career paths, and in the end, IT analysts can become whoever they want – for example, software developers, testers, and so on. You know the saying: sky is the limit. Your choice of career path may also depend on the wage level. Here's a guide with average salaries for various IT Analyst jobs.
It analyst job description – the toolset
In their work, IT analysts use many different tools and technologies. Some of them are used to create documentation, others are required when you try to come up with the best solutions to your client's business needs. There are also things you need to plan your work well and communicate with other people. Here are some tools we use at Pretius (you can also see what's considered the most important by our analysts).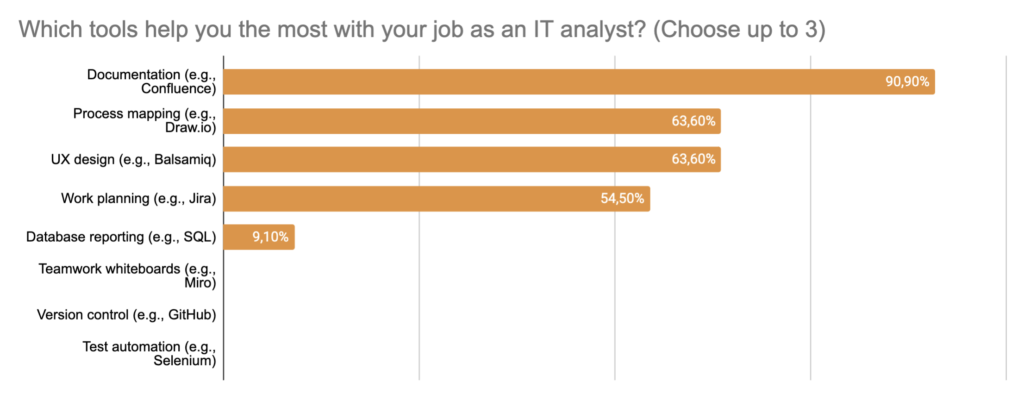 The toolset of an IT analyst is, by itself, a very extensive topic. We'll cover it in more detail in a future article on our blog.
IT analyst – a friend of your project (and wallet)
Analysis in IT isn't an easy job, and it gets both harder and more interesting as the Internet and the world around us change. To fulfill that role, you have to become something of a jack of all trades – learn quite a bit about software development, but also acquire knowledge that a typical developer doesn't have: get to know business, finances, trends among users, industries your clients work in, and so on.
When analysts do their jobs well, they're a great asset to both their development team and the client they work for and can affect the project in truly profound ways. An IT director can use their help to minimize costs and maximize the effectiveness of the custom software he wants to create. They can also analyze the business processes across the client's organization and offer some indicators on how to improve them. Such a high-level analysis can be beneficial, even if later on you decide not to use software made specifically for you.
Analysis is also an interesting avenue for people who want to find their place in the IT industry but aren't necessarily ecstatic with the idea of spending entire workdays coding. The job requires some tech-savviness, but it hinges more on logical thinking than knowledge about software development. It's a lot closer to other people and gives you plenty of opportunities to meet new colleagues or acquaintances and get to know new fields. The importance of IT analysts shouldn't be overlooked or underestimated, which is what makes this job so interesting and challenging at the same time.
Do you need an IT analysis?
Our software development teams are always supported by talented IT analysts, who know the ins and outs of many different industries. If you need to conduct an analysis or want to create truly optimized custom software solutions, drop us a line at hello@pretius.com (or just use the contact form below). We'll get back to you in 48 hours and tell you how we can help. For more information on IT analysts, check out the other articles on our blog:
IT analyst FAQ
Here are answers to some questions regarding IT analysts.
What does an IT analyst do?
An IT analyst is a professional who works with information technology systems and processes. They may design, implement, maintain, troubleshoot, or improve IT solutions for various organizations or clients. An IT analyst may also perform research, analysis, testing, documentation, or training related to IT projects. Some of the skills and knowledge that an IT analyst needs are programming, networking, database management, security, project management, and communication.
Is the IT analyst job profitable?
The salary range of an IT analyst depends on their experience, education, location, and industry. According to the U.S. Bureau of Labor Statistics, the median annual wage for computer systems analysts was $93,730 in May 2020.