On 24 and 25 January the 6th edition of conference Computerworld Zarządzanie zespołami IT was held in Warsaw. If you were not able to participate and you are curious to know what happened during this event, just read this blogpost.
The opening speech 'The Power of Natural Planning' was very inspiring. David Allen, a visiting speaker, discussed the Natural Planning Model from GTD strategy; a procedure that aims to describe how our brain plans naturally. According to David Allen we should also use this natural model when planning projects.
Below are the steps of this approach:
Define a purpose
Envision the outcome
Brainstorm the ideas
Define a structure of everything
In my opinion the last step is the most difficult task. Each year I carefully plan my New Year's resolution but I usually finish this procedure at step 4. But 2019 has just started so I will have the opportunity to change my approach and do the last step of natural planning model procedure. Keep your fingers crossed  😊
Recently we have been wondering at Pretius how to effectively measure the performance of IT teams so I was very glad to see that Jeppe Hedaa (CEO 7N), the founder of Nucleon Formula and the author of the book 'Nucleon' was one of the guests at the conference. According to Jeppe Hedaa NUCLEON is the key indicator of IT developer teams performance.
It consists of numerous factors, e.g.:
Competences of employees
Team size
Organizational culture
Employees' motivation
Availability of decision-makers
Enterprise architecture
Project (management) methodology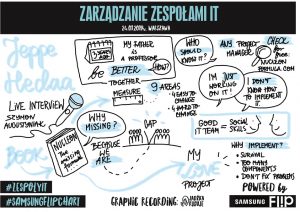 The 30-minute interview left me wanting more so I decided to explore the topic of Nucleon buying the book.
The next two parts were devoted to change management in IT teams.
Michał Głowiński from HL Tech started his lecture from a quote from a cult movie Matrix: 'I know that you're afraid… afraid of us. You're afraid of change. I don't know the future. I didn't come here to tell you how this is going to end. I came here to tell how it's going to begin.' It fits perfectly in the context of IT change management. Mr Głowiński also shared his experience from creating and developing HL Tech. Within 6 months this company's team increased sixfold so the implemented organizational changes proved successful.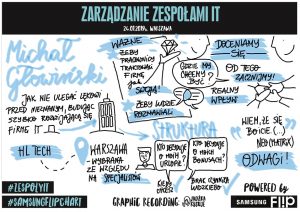 Guests of the next discussion panel 'How to Lead Your Team Through IT Transformation Bravely and Effectively ' Marcin Pilarski from Payback Poland and Bogusław Tobiasz from Bayer told us about their long-term experience connected with implementing changes in IT departments. To put it in a nutshell, before implementing any changes it is advisable to ask four questions:
Why ?
What ?
How ?
What if not ?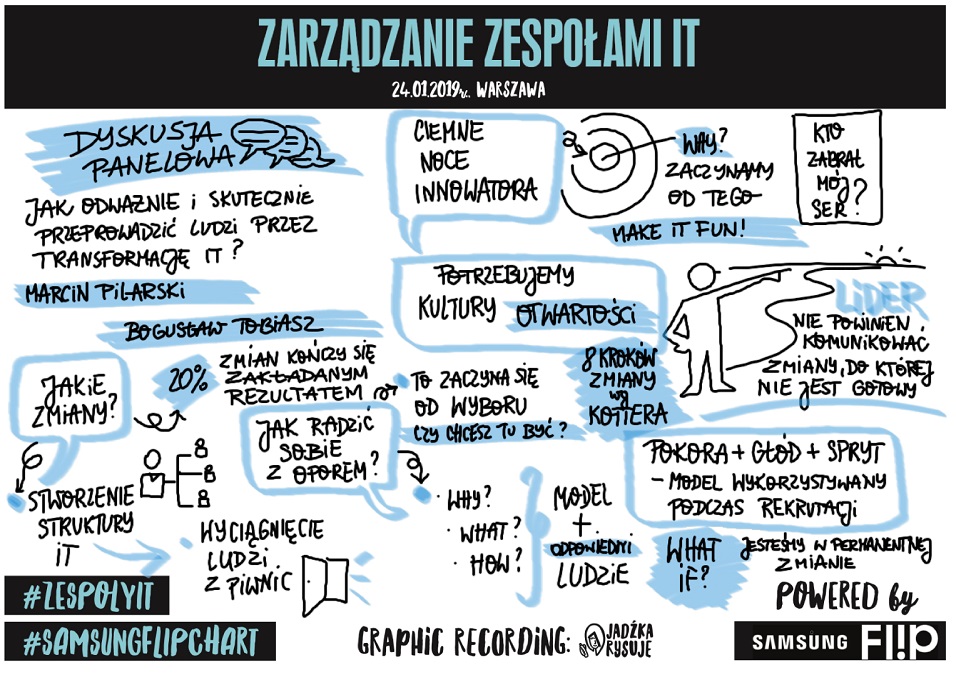 The last one is particularly important when a team doesn't see any sense in changes. If we know answers to the above mentioned questions and believe that the change is necessary, then we have to find Game Changers in our organization. According to Patrick Lencioni the ideal Team Player (Game Changer) has to be smart, humble and hungry of everything: knowledge, tasks, responsibilities. If there are such people in your organizations, you should not be afraid of changes. The panel discussion was concluded with an African proverb: 'If you want to go fast go alone. If you want to go far go together'.
In the second part of the first conference day there were two simultaneous sessions: HR and IT.
Taking into account my current duties I chose HR session.
The speakers touched on very hot issues connected with HR.
Anna Mirek presented how ING Tech Poland dealt with the challenge of recruitment and retention of IT experts in their organizations.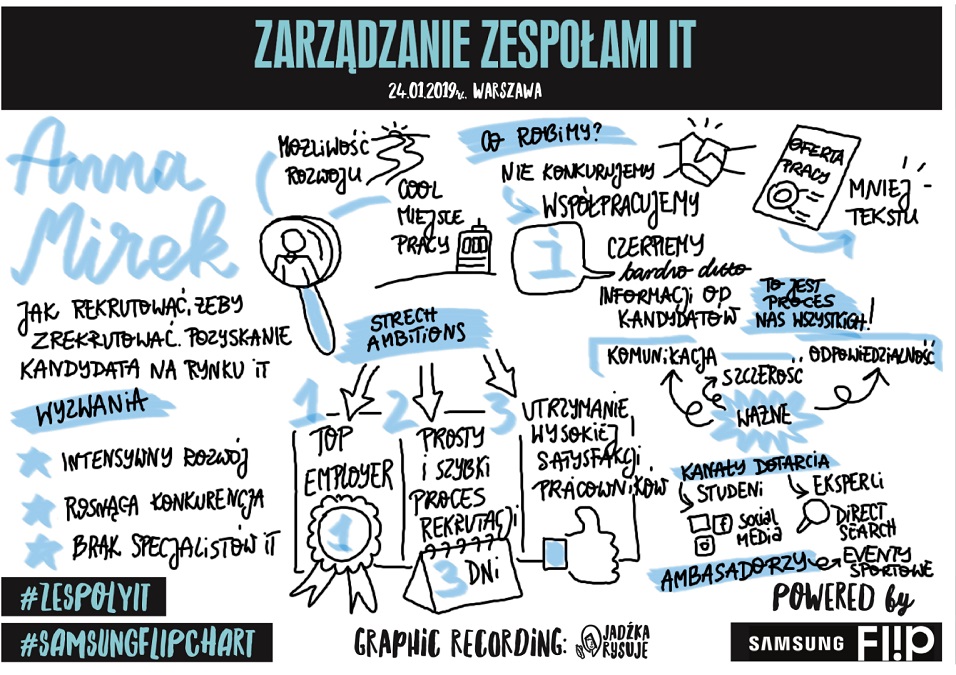 Joanna Winkowska used a case study to present how GSK IT took advantage of gamification in implementing changes in organizations and in increasing work engagement.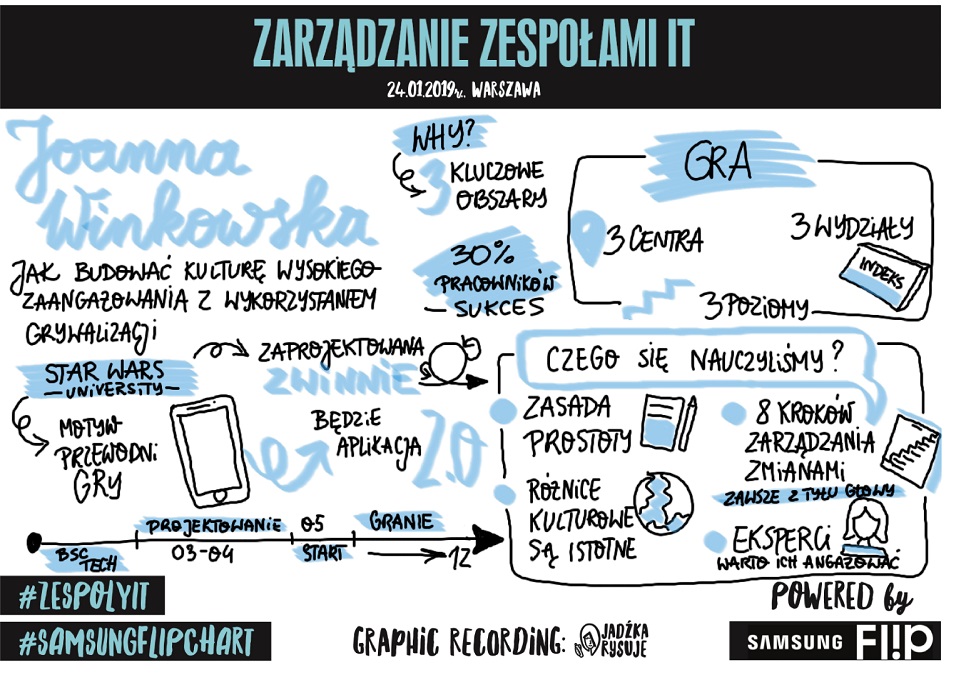 Krystyna Pietrzykowska (Motorola Solutions) and Jana Gutierrez Chvalkovska (Red Hat) shared their experience of working in international and multicultural teams.
The closing lecture focused on mistakes that may be made during the dynamic growth of a company. According to the participants it was the most valuable lecture since many people encounter similar problems in their companies. It is advisable to benefit from the exchange of experience and lessons learned. Monika Gorzelak and Michał Zgrzywa selected seven most serious mistakes that Objectivity experienced during its dynamic growth.
Below are seven valuable tips:
Sensible approach to Employee Journey
Team responsibility for the project
Processes and procedures that enhance the functioning of the company
Clear company structure
The ability to say NO in certain situations
Internal communication concerning changes within the company
Prioritizing, not everything at once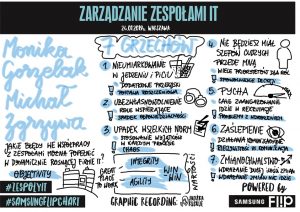 Day two was organized in the form of interactive workshop sessions.
I decided to participate in 'Effective Cooperation in Project Teams' and 'How to Cooperate Effectively between IT and HR'.
Pracownia Gier Szkoleniowych organized a workshop concerning the effective cooperation in project teams.
The main task was to arrange a trip around the world. I wouldn't like to reveal the details, however, I strongly recommend to adopt this method in order to enhance the selected processes within the organization such as improving team efficiency, adopting agile practices, improving internal communication etc.
By the way – best regards for the maritime travel team ( the so-called 'Sznurki' 😊)
Among the participants of the session devoted to HR-IT cooperation there were both people involved in HR as well as IT.
It was interesting to see how the two roles are complementary to each other during the whole process connected with Candidate & Employee Journey. I have a background in IT so it was with a certain dose of admiration that I observed the HR people who were not able to read the source code, however, they were able to read people's minds.
The session was led by Jakub Kubryński from Devskiller.com and he shared with us his tips concerning developers recruitment. One of them is an effective screen call with the candidate using Kruger-Dunning effect. I once read about it but I didn't realize it could be used in the recruitment process. The effect occurs when people with vast knowledge in certain field tend to underestimate their abilities. It is quite the opposite when it comes to people with rather superficial knowledge of the subject who overestimate their skills. If at the beginning of a screen call we ask the candidate for self-evaluation, then we ask a number of questions at various levels of difficulty concerning this issue, we will be able to categorize them as:
conscious competent
unconscious competent
conscious incompetent
unconscious incompetent
At Pretius we hardly ever take advantage of screen calls as we value highly face-to-face interviews with the candidates and we don't have much experience in it. However, after this session I know we should apply it more often.
The most important issues were documented by Natalia Krajewska in the form of business drawings on interactive Samsung flipcharts that I used in the presentation.
It was a great idea to put the conference in a nutshell in this way.